Tuscan Cookery Class with Lisa Banchieri
Florence October 2012
Another chance to learn the secrets of Tuscan cookery with Personal Chef Lisa Banchieri 
Held at Da Pinocchio , Piazza Mercato Centrale , Firenze. After our lesson we all eat the delicious food washed down with some good wine and shared with Lisa's enthusiasm, passion and laughter
Our lesson starts at 3.00- but anyone interested in buying produce in the magnificent Central Market of Florence  is welcome to join me in the morning for a last minute shopping spree – please let me know in plenty of time though so I can meet you at the main entrance!
The market is quite an artwork in itself as you can see from the colourful display that Lisa is making her selection from shown above and the butcher stall shown below.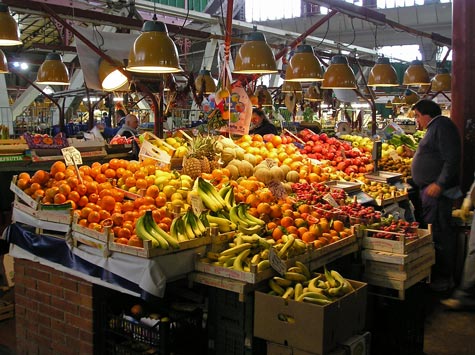 For a change I am going to let Lisa announce herself , her background and above all her passion for cooking
Cooking is what makes me happier and more gratified than anything else: and you know that, when someone does something with passion and joy, the result is always better.
In my dishes you can find joy, tranquillity and, if required, even a touch of melancholy.
You can discover the feelings that I experienced while I was making puff pastry or rolling the dough for ravioli. You can find the fragrance of ginger, which stimulates my imagination and can revitalise a simple dish, providing a new dimension or the juice of the pomegranate that invents a new taste for the faraona (guinea hen)…
Passion, passion, passion and more passion. Since I was a child, following Nonna Papera's steps…maybe that's how dreams become real and then guide us.
An art that I have later refined "over a low flame" with lots of training experiences: the most significant one certainly being theScuola Etoile in Chioggia, where I had the opportunity to gain a global vision of both cooking and catering.
 So what are we eating?
We have some regular customers so the challenge is always to find something we haven't already done with one or another of them – for the 4th October we are making
aperitivi – strudel salate con patate e fungi – mushroom flan
primo- risotto con zucchine e piselli – courgette and pea risotto
secondo – salmone en crosta – salmon en croute
dolce – pesche arrosta – roasted peaches
Lesson costs €69 which includes, food , wine, printed recipes with pens to make notes with, and an apron to use at the lesson and when you try the recipes out again when you get home!
 Buon Appetito !