Many Tuscan gardens in and around Florence are a mixture of  Italian landscape and English formality – we are mixing Italian design and Italian wine for our tours!
These tours are led by a garden expert and driven by a professional and licensed tour driver.
In the late 19th Century, after the Unification of Italy and Florence's brief period as Capital of Italy, property prices in Tuscany plummeted and allowed Anglo-American expatriates to purchase huge villas at a ridiculously low cost. The advantage to today's tourist is that these expatriates in exile used their money to re-establish these formal gardens to their previous glory and have left their heritage for us to visit.
Tuscan villas were often surrounded by farms and vineyards with beautiful gardens at the foot of the villa. Tuscans, with their artistic sense and attachments to their surroundings, create gardens that fit into their landscapes and use limited colour that doesn't perish under the Tuscan sun.
Some details below on our proposed garden visits for May – but they are not yet set in stone so alternative suggestions are welcome.
If you are looking for somewhere to stay or if you want more information about the hotel and tour costs email penny.

Dr Katie Campbell –  our guide for these tours is the author of  the recent book Paradise of Exiles – the Anglo-American Gardens of Florence
Join us for a week of custom designed garden tours with garden historian Dr Katie Campbell
Whether it is a single afternoon or the full five days, walking tours within the city, day trips to nearby hilltop villas or an extended trip around Tuscany, our garden visits can be tailored to your interests and your budget.
Our schedule below offers a small group a private 5 day tour of various Tuscan gardens – many of which are not generally open to the public.
Saturday 12 May – 16.00 – Katie will give a presentation and Q&A -(plus book signing for sure!) – at the newly and beautifully refurbished BM Bookshop on Borgo Ognissanti – the new owner of this delightful shop is called John Werich, and he has kindly agreed to host this afternoon and refreshments will be provided!
Katie will talk about the Anglo- Americans and the Tuscan Villas they bought and gardens they re-furbished with references to some of the writers and painters featured in the current Americans in Florence Exhibition at the Strozzi Palace 
Monday 14 May
private tour to gardens in and around Fiesole 
10.00 Sybil Cutting's Villa Medici with garden redeveloped by English landscape gardener and architect Cecil Pinsent
11.00  Le Balze – home of American Philosopher Charles Strong
12.30 Vincigliata – visit to house and gardens + wine and cheese tasting at this extraordinary medieval castle rebuilt by English peer – Sir John Temple Leader. NB This castle is not generally open to the public but used for weddings and conferences so we are very privileged as a small group to be allowed to visit.
16.30 Il Palmerino – a glimpse of the home and garden of prolific author Vernon Lee – and maybe a cup of tea while Katie introduces this interesting character!
Cost per head  – tour in private Mini-van with professional driver + private professional garden historian guide + entry fee to gardens
 =€99 
Castle + wine tour + wine and degustation lunch at Vincigliata = €30
Cost for day €129 
Tuesday 15 May
09.30 Villa Schifanoia – in San Domenico – one of the many reputed sites of Boccaccio's Decameron
11.00 La Pietra – a garden stuffed with statues at the home of the Actons
13.00 Lunch near Fiesole – la Casa del Prosciutto 
14.00 – Villa Gamberaia – retreat of Romanian Princess Gyka and English Miss Blood
16.30 Villa Maiano – for wine tasting and antipasti – this is another villa redeveloped by Sir John Temple Leader – now used for period films such as A Room with a View and Tea with Mussolini.
17.30 -if we are in time we hope to drop in for a quick visit to the Iris Gardens of Florence – only open in May with the beautiful view of the City under the setting sun.
Cost per head  – tour in private Mini-van with professional driver + private professional garden historian guide + entry fee to gardens
 =€99 
Visit to Villa Maiano + wine tasting and antipasti €15 
Cost for day €114 
Wednesday 16 May 
11.30 Palazzo Picolomini  – in Pienza – home of the humanist Pope Pius 11
1.00 lunch in San Quirico d'Orcia – plus a visit to Horta Leonini another small public garden in the village
3.00 La Foce – home of  author Iris Origo
drive to Montipulicano – trying to follow the route taken by Iris and family when they had to move their school and hospital from La Foce during the Allied attack – we will stop for a glass of wine there before returning to Florence
Cost per head  – tour in private Mini-van with professional driver + private professional garden historian guide + entry fee to gardens
 =€109 
lunch and wine at cost but we have a fixed price menu c€20  
Thursday 17 May 
a walking tour of gardens in Central Florence 
10.00 Boboli Gardens– Grand Duke Cosimo 1 and Eleanor de Toledo's garden behind the Pitti Palace provided entertainment for their growing family and inspiration for Marie de Medici in Paris 
11.30 Bardini gardens – Stefano Bardini – another great collector who sold to the Anglo-American expats
12.30 Tuscan lunch in San Niccolo area
14.30 Giardino Corsini 
16.00 possibly  Giardini dei Torrigiani, 
17.00 Optional taxi up to Bellosguardo for a glass of wine at sunset in the gardens of Torre di Bellosguardo – once home of the formidable Lady Paget
Cost professional guide + entrance to Boboli and Bardini gardens and exhibition of garden painting at the Bardini €60 
Friday 18 May 
a day trip to Lucca 
11.00 Villa Reale aka Villa Marlia – home of Napoleon's sister when she was Duchess of Tuscany
12.30 Villa Torrigiani, at Camigliano
13.30 lunch in Lucca at Rusticanella 2 
14.30 Palazzo Pfanner a setting for a Portrait of a Lady
 16.00 – Gardini Garzoni in Collodi 
17.30 return to Florence – arrival about 18.45
Cost per head  – tour in private Mini-van with professional driver + private professional garden historian guide + entry fee to gardens
 =€109 
lunch and wine at cost 
Cost  fluctuates daily for private travel in air-conditioned mini-van with Dr Katie Campbell as private tour guide.
Some images below with links to blogs about our 2011 visits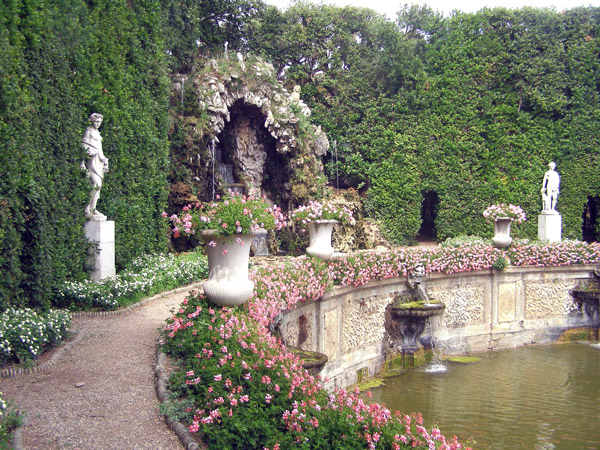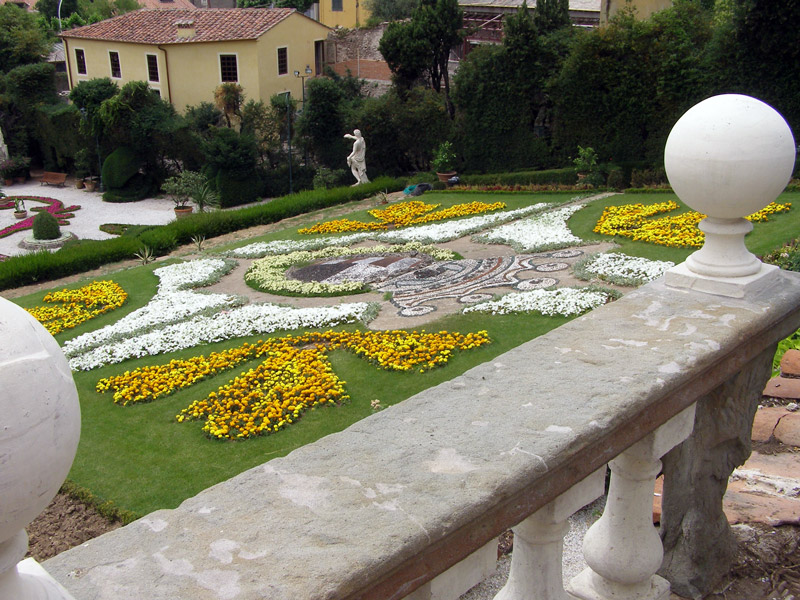 Dr Katie Campbell
About your tutor
Dr Katie Campbell lectures on the postgraduate Garden History course at Buckingham University, she has led many tours and writes for various publications.
Her most recent book, Paradise of Exiles: The Anglo American Gardens of Florence http://www.franceslincoln.co.uk/en-gb/C/0/Book/1355/Paradise_of_Exiles.html explores the eccentric community of English and American expatriates which gathered in Florence at the end of the nineteenth century, while her earlier Icons of Twentieth Century Landscape Design looks at the seminal designs of the past hundred years.
She has also written a book about Scottish Gardens called Policies and Pleasaunces – Scotlands Gardens Today 
Dr Katie Campbell is also a journalist and fiction writer; her plays have been performed on stage and radio and she has published a novel, a collection of short stories and several books of poetry as well as Icons of Twentieth-Century Landscape Design (Frances Lincoln, 2006) and Policies and Pleasances: A Guide to the Gardens of Scotland (Barn Elms, 2007).
Where you can stay?
If you are visiting Florence we can arrange accommodation in various types of accommodation to suit all tastes and pockets.
Villa le Rondini – guests on the tour can stay in the prestigious hotel Villa le Rondini – set in the hills overlooking Florence this hotel shares the extraordinary views enjoyed by the Anglo-Americans who developed their gardens in Fiesole.
Alternatively Penny can arrange accommodation for you in the centre of Florence.  A small bed sit in a big mansion – San Frediano  offers large rooms with frescoed ceiling and river views – but we need to book early to secure them!
For more information about the hotel and tour costs email penny direct on penny.howard1@ntlworld.com