On Wednesday 16th May we had a full day in Val D'Orcia – the sun shone on us and we were even able to eat outside – our main objective for the day was La Foce – the famous home and garden of Iris Origo – a place destroyed by bad management before the Origo's took it on and destroyed again by the Germans when they retreated from the Allied advance – but now restored to all it's former beauty and surrounded by some of the loveliest views in the world.
The villa is now rented to fortunate guests which makes it even more difficult to visit but we were booked in for Wednesday afternoon and as we had our own guide in Katie Campbell were allowed to make our own private visit to this beautiful place.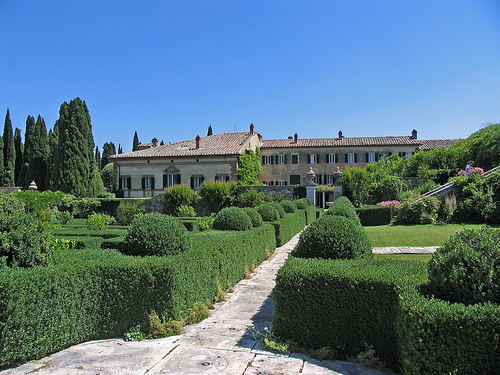 One of the most popular views is the one created to emulate the road taken by the Medici in their Private Chapel painting by Benozzo Gozzoli of the Journey of the Magi.
Below is a lovely photo taken by lovely Leslie that afternoon!
and another taken of our favourite Tuscan dog, Todo,  when he left his home for the first time and came a-visiting La Foce with Lawrence and Louise.
I want to share  some snippets of  Iris Origo's diary of her life whilst Val D'Orcia became the front line of WW2, but it is difficult to find one of so many, that express the confusion of not knowing who is the enemy, what damage either side will do to your friends, neighbours or property next and what to think when it is your supposed Allies who are strafing you as you progress across country with sixty family and children.
I will try to précis this except from War in Val D'Orcia on June 22nd 1944
-"A German officer appeared and said "You must get out -take the children away! – if you go now you may be able to get out of range during this lull".  Iris and her husband then told their terrified staff to go to friends and to take only what they could carry – "the clothes on your back and some food". Origo writes "The babies were howling , we managed to pack a basket with food and the pram with some clothes and  nappies. Each grown up carried a  baby or  a sack of bread and so in a long straggling line, with  the children clutching at our skirts, half walking, half running we set off down the Chianciano road.
I did not think then, that we should get all the children through safely. We had been warned to stick to the middle of the road to avoid mines and to keep spread out to avoid the attention of Allied planes. Some corpses lay uncovered by the roadside. A German Red Cross lorry came tearing up the hill nearly running over us and all the time the shells were falling, some nearer, some further off, and the planes flew overhead. The children were very good, the older ones carrying whatever they could, the smaller ones stumbling along as fast as their small legs could carry them. No one cried except the tiny babies, but now and again there was a wail "I can't go so fast" and someone would pick up that child for a few hundred yards.
The sun was blazing overhead and the hill was very steep and none of us had had food since early breakfast but every stumbling weary step was taking us further away from the dangerous cellar and from what was still to come.
The party divided but still sixty people of whom four were babes in arms and 28 other mainly orphaned children that they had had billeted upon them. They then continued their trek towards Montepulciano. They called a first halt and the children fell thankfully on the ground only to rise again hastily having sat on an anthill! They made indeed more fuss about the ants than the shells!
Planes came and hovered over the group and they all crouched in a ditch then they had to cross a cornfield and the shelling began again, bursting a few hundred yards below them with a terrific din. They pushed on a long straggling footsore procession – the stretch of road they had passed along being shelled behind them.
After another four hours they got to the foot of the Montepulciano hill and suddenly a little group of Montepulciano citizens appeared coming down the hill to meet them with open arms. They shouldered the children and their packages and now the straggling group became part of a triumphant procession climbing up the village street towards shelter and welcome from friends, strangers, partisans and other refugees.
Origo wrote " We have left behind everything that we possess but never in my life have i felt so rich and so thankful as looking down on all the children as they lay asleep. Whatever may happen tomorrow , tonight they are safe and sound.
And so to bed …..and may all your troubles be little ones!