Michelangelo's Hidden drawings in the Medici Chapel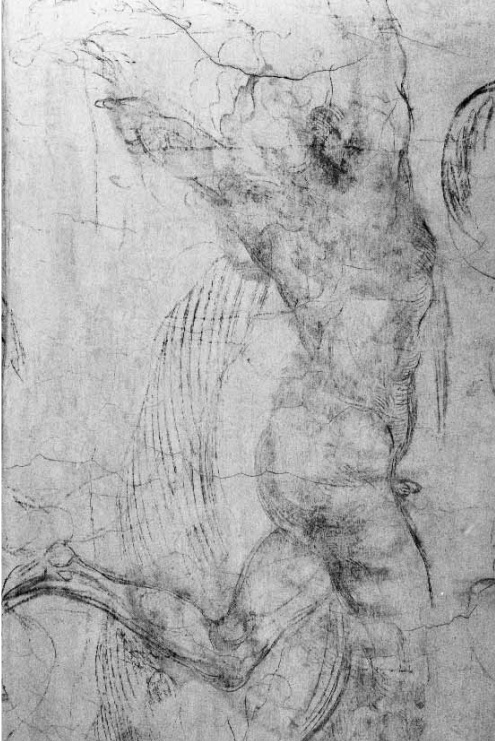 These drawings are not generally found in Michelangelo text books – but they are found on the walls of a room under The New Sacristy (Sagrestia Nuova) of the San Lorenzo Basilica in Florence (aka the Medici Chapel) where Michelangelo, then aged 55, hid himself in 1530 having, as a known repuplican, become an enemy of Alessandro il Moro. He succeeded in  evading capture and the punishment of death from this malicious Medici and lived on for a further 34 years!
This concealed corridor was discovered under the New Sacristy in 1976 – it is believed to have been created whilst Michelangelo was working on the sculptures in the Sacristy between 1520 -1530  maybe developed as somewhere he could sleep or just think and rush back to work when the creative force struck him?
Michelangelo , evidently sick at the time, may have felt that the completed sculptures of the New Sacristy would be the last in his creative career. However he succeeded in  evading capture and the punishment of death from this malicious Medici and lived on – creating masterpieces – for a further 34 years!
Tomb of Lorenzo di Piero de' Medici with Dusk and Dawn
Experts say that his self-portrait (below)on the wall of the concealed corridor reflects his fear of death (through murder by a Medici or from the illness that was troubling him?) but I was struck by the similarity between this sad face and the unfinished face of Dusk on the tomb of Lorenzo di Piero de Medici – perhaps he already sensed some finality in finishing a self portrait in his favourite medium – marble?
This drawing also suggests that the artist was now clinically depressed after working himself Day and Night for three years trying to get these sculptures completed for a tyrant – not that this was the first or the last time he got himself in that situation.
Another drawing below looks more like his arch rival Leonardo di Vinci with his long flowing hair and beard?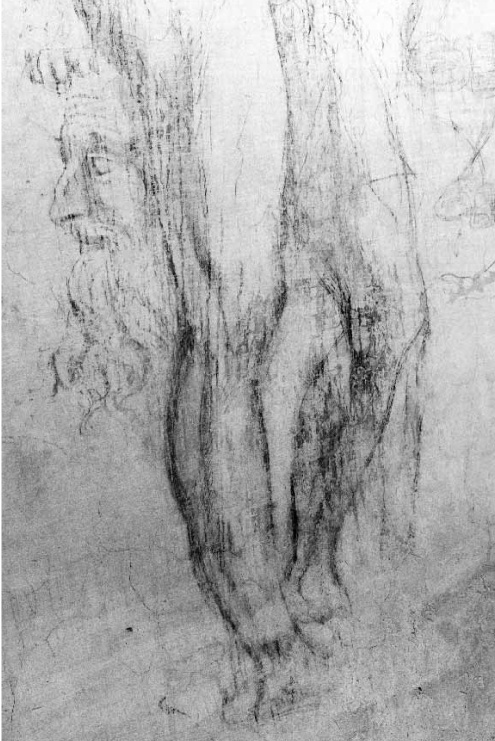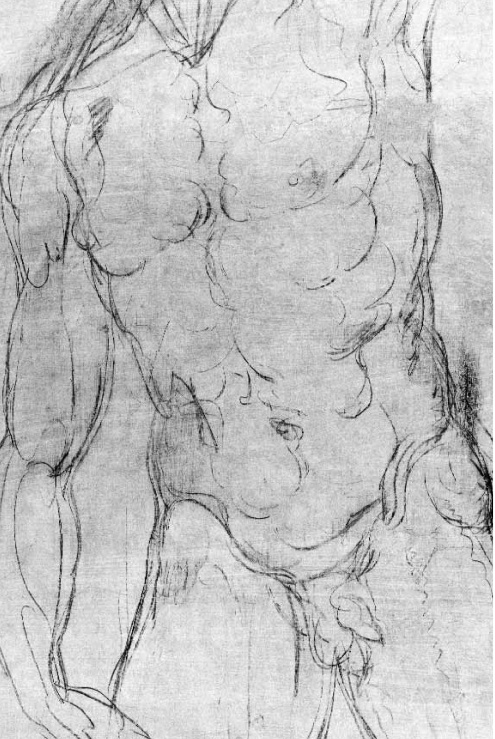 I am not sure whether the bottom picture just displays the genious' confused sexuality and uncertain relationship with the female figure – maybe these could be considered porn – but these drawings are certainly done by Michelangelo – and now I just need to work out how to get to see them for real! 
PS 14.10.12.It certainly doesn't seem an easy challenge, as the room was closed off again, only a year after it was found because the visitor's breath and other aromas have led to the deterioration of the drawings – the curators at the Medici Chapel were not hopeful that I would get in but sold me an expensive book on the subject!!