The Apostles According to Rembrandt
This seasons 'must see' Exhibition at the National Gallery in London is Rembrandt – the Late Works .
There are no queues round the block as there were for Leonardo da Vinci a few years ago, but there are significant queues, and once inside it is difficult to get close enough to these paintings to fully appreciate the worksmanship.
However it is well worth the effort.
The crowd around the painting below was understandable – of all of the many self portraits I have seen of Rembrandt this one to me is the most harrowing and thus the most haunting image of him that I know. Hounded by debt collectors and unappreciative clients this is a man staring disgrace and early death face to face.
When I was finally able to tear my eyes away from this painting I saw that these eyes follow you not only around the room that they are in at the Exhibition, but even when you glance back from the next room – they still seem to be watching you – sorrowful  eyes full of infinite reproach.
But there was a reprieve from my sense of guilt when I found  these marvellous paintings of Simon and Bartholomew and read that in 1657 Rembrandt had embarked on a series of portraits of the 12 Apostles , not as a commission, but perhaps as the Gallery Guide suggests "to reflect the artist's interest in the outward expression of inward contemplation".
Simon – the Zealot – shown above in middle age, seems to be studying his thumb, which is hooked over the handle of the large cross saw that foretells the method of his martyrdom .
Also on show in London at the National Gallery is St Bartholomew ,he too is shown with the symbol of his martyrdom. A concerned, relatively young, Bartholomew fondles the knife that will be later used to flay him alive as his punishment for not being prepared to renounce the teachings of Jesus Christ.
A second painting of the saint in the same room depicts an older man, with his skin already beginning to fall away from his hands and face suggesting that he is getting even closer to his ghastly fate.
In his depiction of St Matthew, with his symbol of a winged man, it is clear that Rembrandt asked his surviving child, his son Titus , to pose for the role of Angel. As with all of the four Evangelists Matthew is shown below with his writings.
In 1656, Titus and his father's poor humiliated companion Hendrickje Stoffels , established an art dealership to try and sell some of Rembrandt's later works to support the artist after his bankruptcy. Hendrickje stood by her lover although he felt unable to marry her because by doing so he would make matters even worse financially, as he would have lost the widower's pension he was left from his first wife Saskia.
In 1660 in order to create the agony of St Peter after Jesus's arrest the artist uses a more complicated play of light and shadows as Peter confronts his accusers, hears the second crow of the cockerel and realises that he has fulfilled Christ's prophecy and denied any knowledge of him for a third time.
An earlier painting of St Peter in prison , completed in 1631, may have been the first in this series of paintings of the Apostles, alone contemplating their mortality.
But it was not the only painting of this saint – the artist seems to have found ideal models for his concept of both St Peter and St Paul and painted them both in animated discussion in 1628.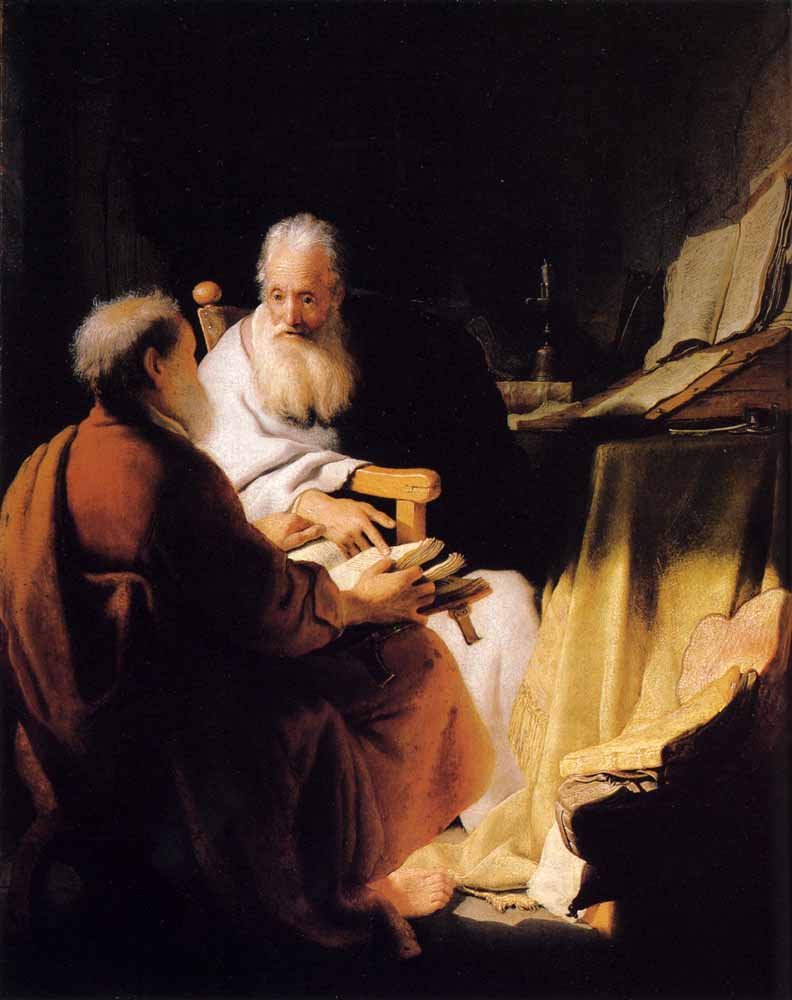 St James the Younger (Minor) was painted by Rembrandt but I am looking for a copy of the image I can include on this page – together with other images from the set – I will add them as I track them down but in the meantime James Minor can be found in the link below!
http://www.nga.gov/exhibitions/2005/rembrandt/flash/
"Son of Thunder" aka St James the Greater was reputed to have been the first of Christ's disciples to die for the Christian cause – possibly  due to the fiery temper which earned him his nickname – he was put to death by the sword. St James has as his emblem a scallop shell, which shows his status as a Pilgrim who travelled widely to tell the world about the promise of Christianity. Rembrandt shows this symbol on his shoulder and on his pilgrims hat. James' travels didn't actually take him as far as Santiago de Compostela in Galicia but as it is believed that it was his objective to get there his bones have been interred in the city and walking or cycling to the town has become a famous pilgrimage.
Rembrandt's 1669 depiction of St James the Greater , shown below, was sold to a private bidder by Sotheby's in New York in 2007 for $25,8 million – it was described in the sales catalogue as
"Alongside his last self-portraits, Rembrandt's late religious pictures, of which this is the only example left in private hands, are the artist's most significant body of work from the final decade of his life. They bear all the hallmarks of his late style; monumentality, thickly constructed layers of paint, use of colour to create tone, and above all a depth of psychological penetration that far exceeds his earlier work, and which remained unmatched in Western art for at least another two hundred years."
Imagine what a difference even a fragment of such a sum would have made to the final years of the poor artists life?