Writing from a Sense of Place with Lisa Clifford – Wednesday 24th February 2016 
Location Castello di Vincigliata – near Fiesole, Italy
Is your story-telling flagging? Do you need help with your characterisation and narrative layers?
Join us for a day of learning and thoughtful discussion about writing from a Sense of Place.
We have a unique opportunity to visit, and get a sense of,  the Castello di Vincigliata – a Medieval Castle destroyed at least twice in its history simply because it was in the way of armies advancing upon Florence – it's rich history and colourful owners make it the stuff of legend – whilst it's splendid restoration make it an exciting venue for modern weddings and opulent parties.
We have a special opportunity to not only take a tour of the castle and learn about it's history but also spend a little extra time making notes on its original features and artefacts to aid us in an Art of Writing taster exercise learning about Writing from a Sense of Place – using your own observations on-site to bring your story to life!
To make it easier to chose a subject for your exercise we will give you some information on names and dates of characters from history from the 12th Century to WWII who have lived in the castle but your story will be entirely up to your own imagination – there will be no prizes – but we will give you encouragement and we will have a round table discussion about your stories, ideas and the sense of ambiance you have created from your writing " in-situ".
Our suggested cast of characters run from invading Medieval Mercenary Soldiers such as John Hawkwood b.1320, d.1394( aka Giovanni Acuto) to imprisoned war WW2 heroes such as Adrian Carton de Wiart,    
If your taste runs to romance, we have a tragic ghost Bride from the 15th Century, or if you prefer mystery stories consider the feelings of John Temple Leader, an exiled English Businessman, who in 1893 was facing the ignominy of a  dressing down by haughty English Queen Victoria should she discover his guilty secret whilst she visits his castle to paint in the grounds.
There is lots more to discover – or invent – using the backdrop of the castle, with it's huge grounds, for your inspiration.
Fresco of  Giovanni Acuto on wall of Florence Duomo
Adrian Carton de Wiart was imprisoned in Vincigliata during World War II. He made seven escape attempts, during one of which, despite his eye patch, empty sleeve and many other serious injuries incurred in WWI he managed to remain "at large" in the forest around the Castle for 8 days. He is shown here photographed by Cecil Beaton.
To make the experience even more enjoyable after our private tour of the  castle there will be a pause when you can taste some of the excellent wine produced by Bibi Graetz, including the notorious Soffocone and the delicious Testamatta – plus there will be water, bread, cheese, prosciutto and olives to help keep your head clear!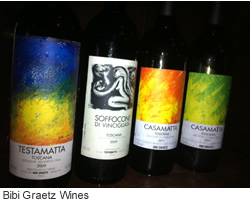 You will also be able to buy wine at wholesale prices.
You then have until 3.30 to consider prepare and write up a short story – no more than a couple of pages – even a paragraph that you are happy with – and maybe we can crack open another bottle whilst you shame them with the group before we catch our mini-bus back to Florence at 4 pm.
The cost to cover the initial presentation from Lisa Clifford on Writing from a Sense of Place, the Vincigliata Castle Tour with time to make notes, a private Wine tasting and your transport to and from this isolated spot will be €200
To download our brochure click Vincigliata Feb brochure9
Lisa Clifford and I hope you can join us from this unique event at a very special venue – and if you enjoy it you might also like to learn more about the Art of Writing Writers Retreat held on June 19-25.