This weekend I have joined my friend Kath Thomas for the Vernissage of her new Studio BookBarnKat in Via dell'Amorino 8r in the San Lorenzo area of Florence.
Kath also launched her first workshop in her new studio which has been enacted over this weekend.
It is called Calligraphy in Blossom where seven students have been working closely with talented Argentine Calligrapher Marina Soria
Marina is greatly interested in experimental calligraphy and in the creation of new alphabetic styles. In the studio opposite BookBarnKat both her work and that of various other calligraphers is on display.
She has been awarded prizes and she has exhibited her work in painting and calligraphy in different art galleries and museums in Argentina and abroad: Uruguay, USA, Spain, Japan, Russia and Germany.
Many of her works use traditional Argentine subjects – such as the image below.
In 2002 Marina travelled to Japan and in 2007 and 2010 to New York; these trips have influenced her style, especially the Eastern world.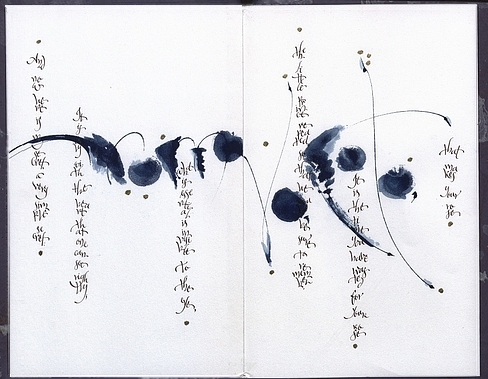 In her interest to go deeper into Eastern philosophy and aesthetics, in 2007 she took part in a year long workshops on sumie-e, eastern painting, delivered by Cristina Coroleu, based on Taoist techniques.
In 2008 she attended "Books by Hand", Workshops run by Monica Dengo. One of  Marina's books has been purchased by the Arezzo library.
Calígrafos de la Cruz del Sur.
Marina Soria was a founding member of "Southern Cross Calligraphers", the first calligraphy group in South America a group whose goal was to spread and promote calligraphy through lectures at Universities, conferences, workshops and exhibitions.
She has published articles in specialised magazines and her work can be seen in the 2012 yearly report of Letter Arts Review magazine,  the most prestigious publication of this discipline in the USA, and in various other magazines.
Her Works are part of the calligraphy Museums of Russia and Germany.
Congratulations to  Kath on her beautiful new studio – and check out her website for all the other fine book-binders and working artists that will be running workshops from her facilities.
Marina Soria's work can be seen in the following Internet pages:
www.artesdellibro.com
Academia Nacional de Bellas Artes de Berlín
Museo Contemporáneo de caligrafía de Moscú / Newsletter del  "International Museum of Calligraphy", Moscú. Rusia
www.mnbookarts.org