Welcome back Lisa – so lovely to have you back with us to teach Tuscan cooking
Just a small montage of photos from our two Tuscan Cooking sessions this month – hopefully we will manage another next month in Florence and then we have at least three days set up in London in mid-December cooking Tuscan Christmas dishes and aperitivi.
Gretchen and Gill making the pasta for our Primi – ravioli con pere e gongonzola
 Gill concentrating on folding her pasta over the yummy pear and ricotta filling
Secondi  
Yes, boys get in on the act too – some even enjoy it …..Bob is chopping tomatoes for the fish dish!
Whilst some ladies find the left-overs irresistible……………..? Chocolatisssimo!
And finally even Husband joined us for the eating part – note the number of members of the "clean plate club!"
Our second class was on Tuesday 14th October – in the same location in Florence , Da Pinocchio in the Piazza Mercato Centrale. Close by by the recently redeveloped Central Meat, Fish and Vegetable market – we stop and shop there before the class just for the fun of it.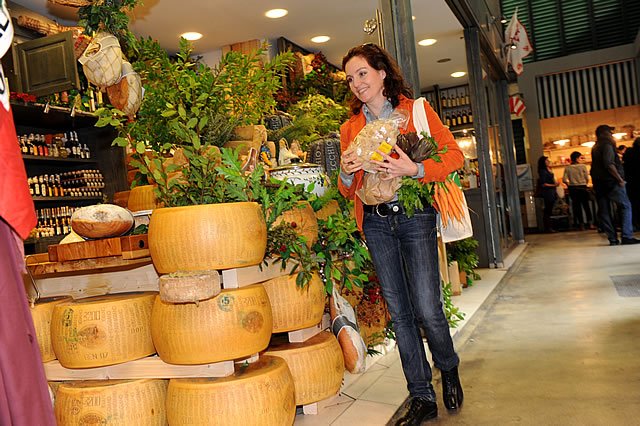 For the second session we had fewer chefs but plenty of diners for another fine menu – starting with Bruchette with Zucchine and parmesan – which had to be chopped at right angles so they pop in the pan without sticking.
More pasta making to follow – not only ravioli but also tagliatelli and a non-throwaway recipe for making a thin Brodo soup with fresh chicken stock and left over pasta.
Next , we cooked Arista – the best part of Pork Loin with Tuscan potatoes – all smeared lovingly with olive oil and rosemary.
And finally a Tiramisu – with chocolate slabs and pureed strawberries.
Another Brindisi – cin-cin ciamoci – Salute!
 And last but not least Susan gets a congratulatory cuddle from Cosmo for a job well done.
Planning next week for next year but our objective is to re-introduce the monthly class – so in November and three days in London in during weekend of 12th ,13th , 14th and 15th December.
Buon Appetito !