Moroni – His 1569 painting of the Last Supper on show in Royal Academy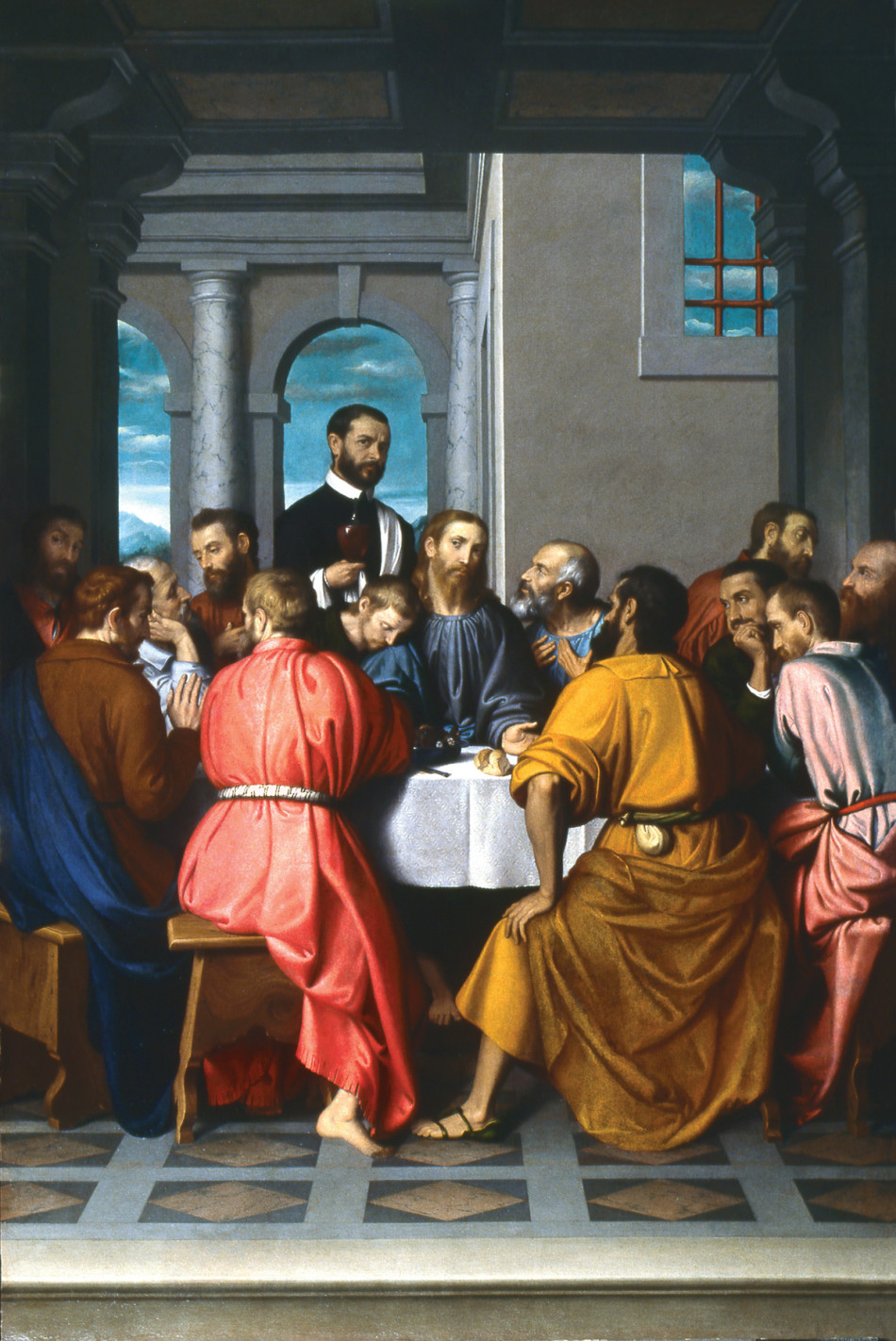 This painting is very different from the usual scenes of the Last Supper , those that are completed in fresco on the walls of the Cenacolo of a Monastery or Convent so the walled-in ones can feel they are in exalted company whilst they eat are almost lifesize, and the characters appear to be simply seated on a trestle table at the end of the room.
In this case the action is presented in oils in portrait format as opposed to landscape, so there is less breadth to develop the characters of the disciples as they take in Christ's announcement that one of them is about to betray him.  Nonetheless the Lombardian artist, Giovanni Battista Moroni has managed to give very modern and believable identities to each member of the assembled group.
Peter is on the left as opposed to the right hand side of Jesus and still looking outraged, although he has not yet grabbed the knife from the table as he is shown in many Last Suppers , including Leonardo's shown below, ready and prepared to defend Christ by cutting off the ear of Malchus, the High Priests servant.

John is a young man with a light growth of beard, who is sleeping on Christ's right shoulder, definitely not in his lap. Thomas has his hand on his chin looking doubtful, and Judas is dressed in his poisonous yellow to warn the faithful that this is a dangerous man.
The strangest thing about this Last Supper is the man, dressed in black and white, who stands behind the usual delegates. He is shown in a dominant position – such as as host , but as he also a holds a cruet of wine ready to pour, he also appears to be one who serves. The wine is significant as the symbol of the Passion and part of the belief that Christ's blood turns to Communion wine, and this would have been also this gentleman's role towards his parishioners.
It is evident from the quality of the painting that this is the portrait of a real person. It is known from the parish records that this is Lattanzio da Lallio, who was the parish priest of Romano di Lombardia – and according to Renaissance tradition he is entitled to stare boldly from the canvas as it he who commissioned this huge altarpiece.

The Moroni Exhibition at the Royal Academy in London continues only until 25th January 2015 – it is well worth the entrance fee just to see the quality of his painting of silks, satins, pearls and lace, which no photos can do justice to, – but the real beauty of the painting is the way the artist has also captured the spirit and soul of his sitters.