Tuscan Garden Tour with Dr Katie Campbell – proposed agenda May 2016
This is the seventh year that Social Garden historian Dr Katie Campbell, who Senior Research Fellow in Garden History at University of Buckingham, has led garden tours in Tuscany on behalf of Beyond the Yalla Dog and I am grateful to her for sparing us her time in between lecturing on garden history for the University of Buckingham , writing  regularly  for Hortus, Gardens Illustrated, Garden Design Journal, Historic Gardens Review, and the online art history journal Cassone.
As well as helping to deliver Buckingham's MA in Garden History Katie lectures widely, writes, and sits on the Board of the Garden History Society.
Her current field of research is landscape and national identity,  although she retains an abiding interest in Italian gardens and contemporary landscape design and it is wonderful for me to have such a good friend to share her richness of knowledge and expertise with my customers and friends.
Katie's background was in Canada where she  received an honours English degree from McGill University in Montreal.  After a career in journalism, drama and fiction she returned to academia, got a PhD from Bristol University and has previously lectured on garden history for Bristol University and Birkbeck College, London.
Her most recent publications are Paradise of Exiles: The Anglo-American Gardens of Florence  (2009), Policies and Pleasaunces, A Guide to the Gardens of Scotland (2007) and Icons of Twentieth Century Landscape Design(2006) and the book of 2014 BBC Garden Documentary British Gardens in Time 
Our 5 day programme for October includes a mixture  of Tuscan gardens and Tuscan wine
Day One  – Wednesday 10th October – after meeting for coffee together  in my flat we leave Piazza del Carmine around 10am in order to get into the beautiful Val D'Orcia region and visit the walled city of Pienza , and the home and gardens of  Humanist Pope Pius II with it's stunning views across the UNESCO protected world heritage site
 We go onto to Horta Leonini and lunch in San Quirico d'Orcia and then through to the home of Iris and Antonio Origo and the gardens designed by Cecil Pinsent at la Foce 
We go home following as best we can the route that Iris Origo and her husband Antonio led and carried 24 small children evacuated from their homes in Milan ,plus their own two daughters, across the country from the war front that La Foce had become, to a warm welcome from their friends many miles away in the next walled city of Montepulciano .
We expect a warm welcome – and a few glasses of wine to taste – from a wine cellar Gattavecchi n the City.
Day Two  –  leave Piazza del Carmine in Luxury Mini Van at 09.00am
09.30 Villa Medici – Villa developed by Michelozzo for Cosimo de Medici to meet with his Humanist friends after his refreshing retreat to the Hermitage of San Jerome close above the villa. Gardens renovated by Sybil Cutting in early 1900 by Cecil Pinsent 
11.00 Le Balze – another Cecil Pinsent special with both Villa and Garden developed for American Philosopher  Charles Strong and his daughter after he was widowed
13.00 lunch and wine tasting Villa Maiano 
Villa Maiano has been location for many films set in Tuscany including tea with Mussolini and a Room with a View
15.00 Villa Gamberaia – the 20c retreat of Princess Gyka and her redoubtable companion Miss Florence Blood!
day 3  – a day trip to Lucca 
The Villa Marlia, which  was appropriated by a famous Expat – none other than Eliza – the youngest sister of Napoleon, whom he made Grand Duchess as part of his attempt to control Europe through his family.
The Villa Torrigiani – one of the larger homes of this and gardens of this prestigious family
and it's elegant fish pond!
13.00 Lunch in Lucca
14.30 Palazzo Pfanner – Four season gardens as featured in Portrait of  a Lady 
And returning to  – 15.30 Villa di Bellosguardo – the garden of the opera singer Caruso 
day 4 – a walking tour of Florence – see the Boboli, Bardini and Corsini gardens as never before 
day 5  – another day in the hills surrounding Florence – Fiesole and san Domencia 
Proposed gardens near Siena – to be confirmed – Cetinale ,  Vicobello and Castello di Celsa , if we have time perhaps – if we have time – also a quick look into the Duomo at Siena to see the famous floors before the restoration starts at the end of this month?
Cetinale
Garden of Villa Vicobello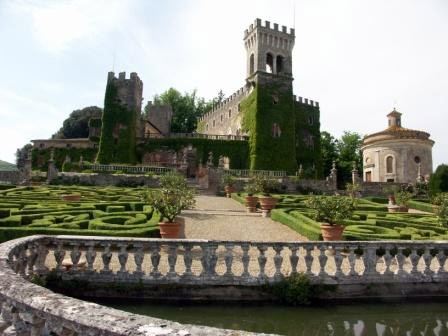 Castello di Celsa
If any of these plans takes your interest and you want a private tour in a luxury mini-van with a small group of like minded people please contact me to arrange on penny.howard1@ntlworld.com or telephone in Italy (0039)3273431681
Costs on application but in the region of €170 per head for the trips to Val D'Orcia and Lucca – costs include travel, lunch, your professional guide and entry fees -the walking tour day will be cheaper as transport is a large part of the cost.